This guide assumes you have a wallet installed. We highly recommend Metamask for best compatibility and ease of use.
Connecting to the CHG network is easy! Just go to https://hub.chgcoin.org

After that, simply click 'Connect' within the website App. The previous screenshot still applies if you're wondering where the 'Connect' button is.
You will next be asked to choose your wallet type. Again, we are working with Metamask for purposes of this guide…

But usually, Metamask will automatically connect, which looks like the following. Just click on the 'Next' button to proceed.

Once connected, it's easy to swap between networks. You can do this by clicking on the network you are presently connected to (Ethereum, Polygon, CHG, etc.) within the app. This button will have replaced the 'Connect' button after having connected to a network visa-vi the app. In the screenshot below, you would be clicking on 'Ethereum,' which has a green circle next to it.


Choose the network you want to connect to:

And then Metamask will ask if it's ok to switch networks, for which you will click 'Switch Network.'
BRIDGING
Bridging is super fun and easy! From https://hub.chgcoin.org, click on 'Bridge' to start off.


CHG APP METHOD (preferred):
After that, you need to select your originating network. You can do this by clicking on the network you are presently connected to (Ethereum, Polygon, CHG, etc.)

Don't forget to authorize the network switch when prompted, the button looks like this:

METAMASK METHOD (manual override):
If the CHG App isn't behaving, you can always change networks using Metamask, as shown in the screenshot below:

Once you have chosen the network you are sending funds from, the next step is to select the network where your funds are going, and what quantity of these funds is being sent:

Finally, confirm from within Metamask in order to process the bridge transaction. At time of this writing, the 'confirm' button is used for this within Metamask, which may change if Metamask makes an update, but you get the idea…

TROUBLESHOOTING - CONNECT ISN'T WORKING WITHIN THE CHG APP:
If all else fails, you can always manually enter the settings into Metamask by clicking on the Metamask extension on the upper right hand corner of your browser, then left click the multi-colored circle on the upper-right hand side of Metamask, then click on settings…

After that, click on Networks

Then click on Add Network

Then click on Add Network Manually

And finally, enter the CHG network settings as follows: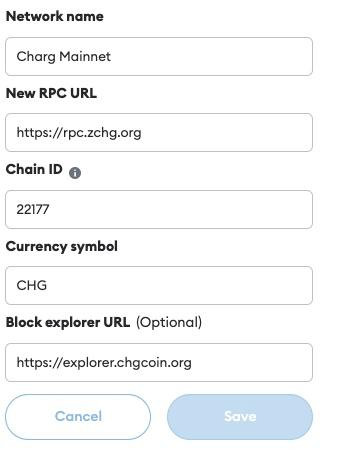 I thought you might be the copy/paste type, here it is typed:
Network Name: Charg Mainnet
New RPM URL: https://rpc.zchg.org
Chain ID: 22177
Currency Symbol: CHG
Block explorer URL: https://explorer.chgcoin.org
And some more useful links:
API Basic Command Guide: https://api.zchg.org
Backup API portal: https://hub.zchg.org/api